The situation in Central Africa: Special Representative Abarry briefs the Security Council on 5 June
Arrived in New York on 31 May 2023, the Special Representative and Head of UNOCA, Abdou Abarry, will introduce, on Monday 5 June, to the Security Council, the 24th report of the Secretary-General of the United Nations on the situation in Central Africa and the activities of the Office he leads. It will highlight prominent political, security and humanitarian issues in the sub-region since the last half-year report examined on 8 December 2022. Several challenges are included in the report, among which those related to climate change, maritime piracy in the Gulf of Guinea, threats from armed and terrorist groups, transhumance, human rights, etc. This last point takes into account the state of press freedom and the protection of journalists. The Secretary-General had already addressed this matter in the 23rd report, encouraging the authorities of the subregion to "promote freedom of the press, in particular through laws that ensure the safety of journalists and actions that contribute towards holding perpetrators of attacks against journalists accountable." He noted that "the UN will continue to provide relevant support, given the central role that the media plays in promoting peace, security and good governance." 
Several UNOCA initiatives and actions are aligned with this direction. In a context increasingly marked by the resurgence of hate speech, the Office has committed to continue its mobilization against this scourge, including by strengthening its assistance to subregional organizations (ECCAS) and Member States, in particular those engaged in electoral processes. This issue is also at the center of the concerns of the United Nations Standing Advisory Committee on Security Questions in Central Africa (UNSAC), whose representatives met with the Head of UNOCA in New York on the margins of his briefing to the Security Council. He also exchanged with senior officials from the United Nations system and the African Union, as well as several other diplomats accredited to the United Nations, including the Ambassadors of Gabon, Michel Xavier Biang, and of Ghana, Harold Adlai Agyeman, whose countries are non-permanent members of the Security Council. Moreover, he participated in an information sharing and analysis session on climate, peace and security, during which the UNOCA Advisor in this area intervened by videoconference.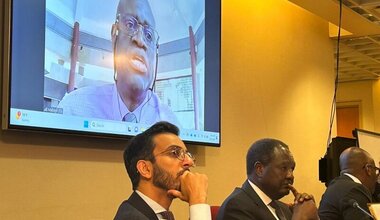 The presidency of the Security Council for the month of June 2023 is held by the United Arab Emirates. This is the second time that Mr. Abarry will appear before this important UN organ since taking office in September 2022 as Special Representative of the Secretary-General for Central Africa and Head of UNOCA. His first briefing took place on 8 December 2022.