Issues of peace and security in centre of a Seminar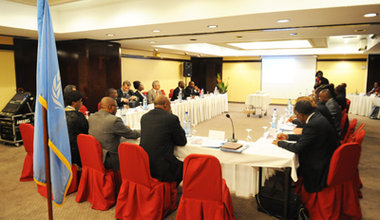 UNOCA/Libreville, October 9, 2011
.
At the initiative of the United Nations Regional Office for Central Africa (UNOCA)
,
Special Representatives of the Secretary General of the UN, Regional Directors and the Resident Coordinators of UN System in Central Africa and the Department of
P
olitical Affairs of the United Nations New-York
, will
meet in Libreville, the capital of Gabon, from 10 to 11 October 2011 as part of a seminar on issues of peace and security
.
The major challenge
of this top meeting
: engaging
the debate on
ways to
coordinate effectively,
at
sub-regional level
, efforts
by the United Nations
in the concerned areas
Participants will mainly focus on the need to develop strategies to support sub-regional initiatives for conflict prevention and peace building as well as those related to conflict resolution, particularly through the capacity building of regional organizations such as the Economic Community of Central Africa States (ECCAS), the Economic and Monetary Community of Central Africa (EMCCA), the Great Lakes Community of States (GLCS), etc..
In this context,
a special session will take place on Tuesday, Oct. 11, to focus on
cross-border threats
dominated by
incessant attacks
perpetrated by the
Lord
's Resistance Army
(LRA).
The fight against
this
movement
is one
of the major tasks entrusted
to UNOCA
by the
Security Council
. UNOCA, by this action, is responsible
for coordinating
the actions of the
United Nations system
in the affected countries
(CAR, DRC,
Uganda,
South
Sudan) and
to facilitate cooperation
between
the United Nations and the African Union (AU).
Press contact : Dr. Norbert N. OUENDJI – Public Information Officer- UNOCA /
ouendji@un.org
ABOUT UNOCA.
Inaugurated in March 2011, the United Nations Regional Office for Central Africa (UNOCA) based in Libreville (Gabon), offers a range of assistance designated to help States in the sub-region in the areas of conflict prevention and to cooperatively managing possible sources of tensions. UNOCA also offers assistance to sub-regional institutions, including the ECCAS - its main partner - in: building capacity for early warning and mediation. Assistance in organizing free and peaceful elections, the promotion of inter-agency cooperation in the sub-region through the strengthening of Good Governance, Human Rights, the fight against transnational organized crime and small arms trafficking, are also part of UNOCA's mandate. UNOCA covers ten countries: Angola, Burundi, Cameroon, Central African Republic, Chad, Congo, DRC, Equatorial Guinea, Gabon, and Sao Tome and Principe. The Office is headed by Mr. Abou Moussa, Special Representative of the United Nations Secretary-General.